Draper's Valley Presbyterian Church
Presbyterian Church in America
2755 Old Baltimore Road
Draper, Virginia 24324
540-994-9015
drapers.valley@dvpca.org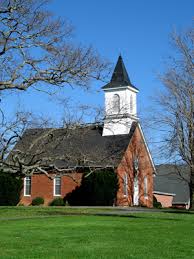 "Pursuing the Glory of God in all things."
VISION - MISSION - CORE BELIEFS
Welcome!
We are a Bible-believing, historically confessional Presbyterian church. Each week we come together to worship, consider our need for God's grace, reflect on the greatness of Christ's work, and follow God's call as his children. If you are already a member of, or regularly attend Draper's Valley PCA, we encourage you to see how you can become better engaged in the life of the church. If you have moved to our community or have otherwise been looking for a faithful church community, we welcome you and encourage you to join us. To all, we are glad that you have found us on the web. Come and meet us!
---
The Gospel Reformation Network
"An Ordinary Red Brick Church"
by Robert Davis - March 28, 2019
---
NEWS AND ANNOUNCEMENTS
HOMECOMING SUNDAY
July 21, 2019
Please join us on Sunday, July 21st, as we will celebrate the 187th anniversary of the founding of our church. "Homecoming" is a special day of worship, fellowship, and good food. In years past, it was "dinner on the ground". Presently, the Lord has blessed us with a beautiful fellowship hall and picnic shelter in which to enjoy our "covered dishes". So, whether you are a lifetime member, or a relative newcomer, we hope that you will invite family, friends and past members to come join us on this special day as we reflect on and celebrate God's blessings on Draper's Valley Presbyterian Church both past and present. Pastor Bob Davis will be preaching for both the 8:30 and 11:00 service. PLEASE BRING A COVERED DISH TO SHARE (Main Dish, Side Dish, or Dessert). Lunch will follow the 11 o'clock service in the fellowship hall and picnic shelter. (Youth will be available before and after Sunday School at fellowship hall entrances to help take your dishes to the kitchen.)
---
* * * 11:00 O'CLOCK WORSHIP SERVICE ONLY, AUGUST 5 AT DVPC * * *
There will be NO 8:30 Morning Worship service or Sunday School on Sunday, August 5th due to the number of families that will be attending Family Camp. We will, however, have Sunday Evening Service @ 6:15 p.m.
---
---
UPCOMING EVENTS
JULY 21, 2019
HOMECOMING SUNDAY
AUGUST 2 – 4, 2019
FAMILY CAMP
Saturday, September 28, 2019
WOMEN'S MINISTRY ANNUAL MEETING
---
WEEKLY SCHEDULE


Sunday

Early Morning Worship - 8:30 a.m.
Coffee Fellowship - 9:30 a.m.
Sunday School for all ages * - 9:45 a.m.
Morning Worship - 11:00 a.m.
Choir Rehearsal - 4:30 p.m.
Evening Worship - 6:15 p.m.

* Youth/Childrens Sunday School information

Wednesday

Supper in the Fellowship Hall - 5:45 p.m. (September - May . . . Suggested Donation - $2 ea. or $8 Family)

Children and Youth Classes - 6:30 p.m.
Prayer and Bible Study for Adults - 6:30 p.m.

Nursery available for infants to 2 yrs. old Sunday & Wednesday services.



About DVPC
Come to the About Us section to meet , and find out what we're all about!